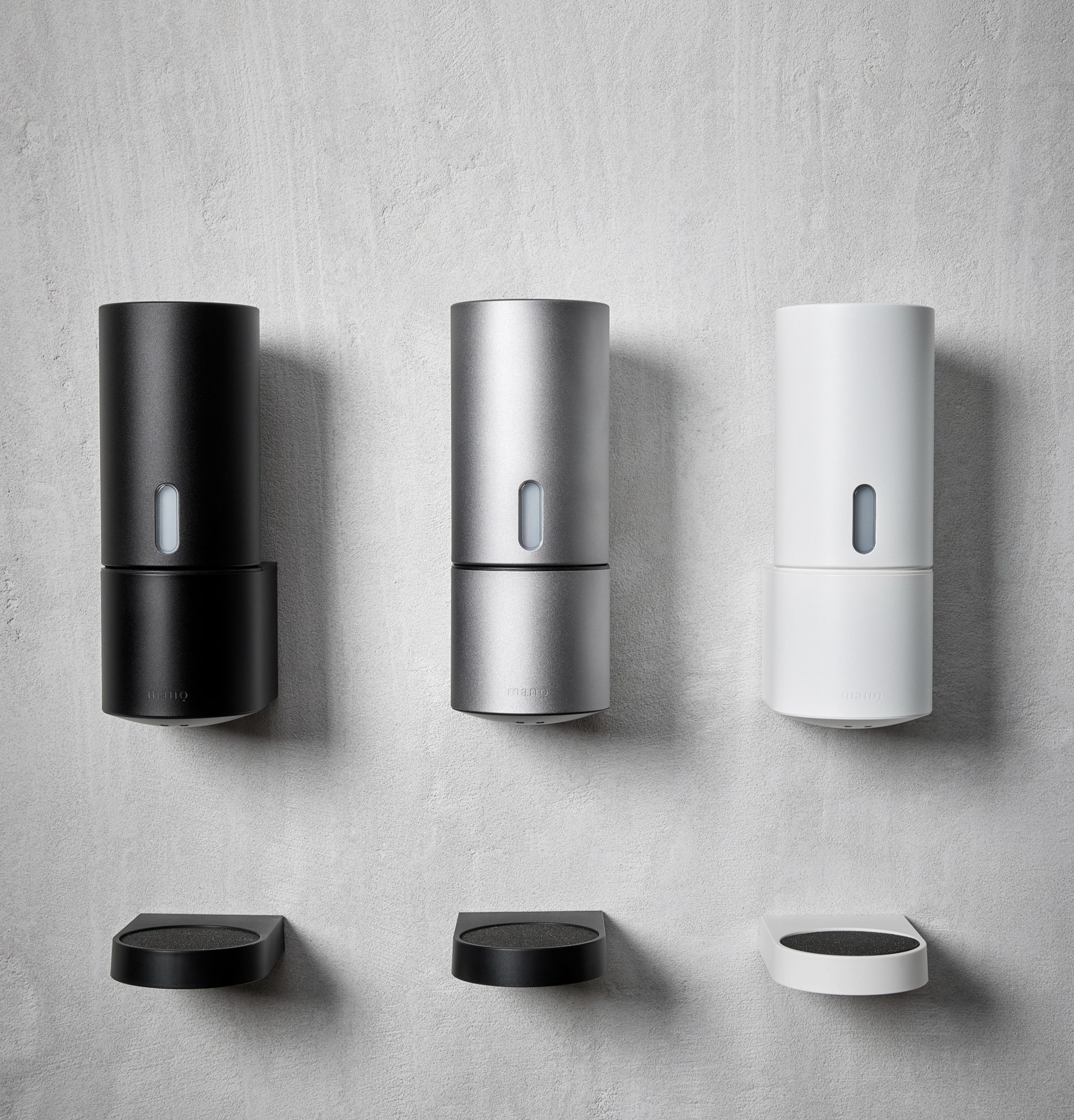 Elevate Your Hygiene Experience.
Exceptional Design Meets Innovation.
Crafted With Care
High-Quality materials for lasting elegance.
INFRA RED ACTIVATED DISPENSER
Dispenser for disinfection liquids, gels, hand soap, shower gel, etc.

Refillable with all types of Sanitizer and Soap

Body made in aluminum and plastic for inviting, durable surfaces and easy cleaning.

Heavy base and high quality construction.

Available in 3 configurations and colors.

Hands free technology.

Easy to install, refill and operate.

Two dosage settings.

Battery or wall cord powered. Battery duration: approx 1195 doses with single shot.

Container volume: 0.9 liters

Long term durability tested

RoHS and CE approved.
Engineered and manufactured by Scancastor.

Clean, beautiful lines designed by Hans Thyge & Co., award winning Danish design studio.
A color for every occasion.
Let the soothing colors of Mano bring a sense of calm and harmony to your space, as it effortlessly blends exceptional design with gentle care for your hands.
Mano Wall
The MANO has been designed to avoid disinfectant liquids from dripping on surfaces below, and to minimize overspray on adjacent wall surfaces
Mano Counter
Place the MANO dispenser at a visible height in areas with high activity and physical contact. MANO is activated by infrared technology, so the user avoids touching the dispenser
Mano Floor
The Mano floor dispenser will compliment your interior in a subtle, elegant way and provide the flexibility to move the dispenser around - to place it where its most needed.
Find Retailers
Discover the beauty of Mano near you! Click here to explore our trusted retailers and find the perfect Mano Dispenser to elevate your space with style and function.
Mano
FOR HANDS & HEALTH
Copyright © 2023 Scancastor A/S. All rights reserved.